When shopping for Christmas jewelry, one popular style that is adored among many is the the white topaz ring. Since it is the purest form of topaz, with no impurities, it is often used in the place of a diamond. Since it is so beautiful, yet much more affordable (usually within $100 – $400) than diamonds are, you may often find that white topaz is used as a common replacement for the birthstone of those who were born in the month of April. But it certainly isn't the imitation factor that makes white topaz rings so desirable. In fact, it is instead the meaning behind the gem.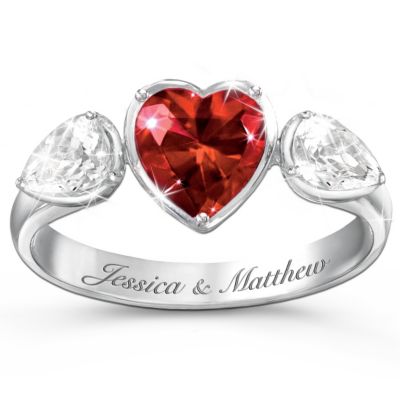 Two Hearts as One Personalized Garnet and White Topaz Reversible Ring
Whether it is for a birthday, Valentine's Day, Christmas or just because, giving a white topaz ring is an excellent way to say "I love you" with genuine emotion. There is perhaps no other gem that is so capable of expressing trust, love, communication and warmth than with white topaz. In fact, there are even those who hold the belief that the gem itself has the power to protect against misfortune and calm the soul. For this reason, the popular gem has become a common placement in promise rings for those who wish to say something that will forever be remembered.
Another great feature of this type of topaz is that when there is a thin layer of titanium placed underneath the topaz, there is an ending result of "Mystic Topaz" which results in a shimmering burst of many colors when light strikes the gem in a particular way. In truth, it doesn't matter what occasion calls for these beautiful rings or even if there is an occasion. When it comes right down to it, these particular gems make a wonderful gift that will ultimately be treasured for an entire lifetime to come. That's the kind of gift that essentially becomes priceless.